Get a monthly subscription for CAN$46.80/mo with automatic monthly billing. Pause or cancel any time.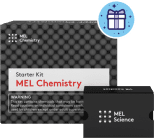 Sign up now and get our comprehensive Starter Kit and VR headset for $50 free.
Have any questions? Is anything confusing?
Please take a minute to tell us what is unclear to you.
Take survey
Frequently Asked Questions
Which set will I receive if I start now instead of starting at the beginning of the school year?

You will receive an experiment set with experiments illustrating a designated topic. One new topic is introduced each month. You can check the full list of topics for the entire subscription to see which sets you can receive each month. The topics are looped such that the start date of your subscription does not matter; you will eventually receive all the experiment sets.
How much does it cost?
Are the experiments safe?

Yes, they are. We have made every effort to ensure that our experiments are as safe as possible:

The European Committee for Standardization (CEN) has compiled a special list of substances that are allowed in children's chemistry sets (EN 71-4). We only use substances from this list.
None of our experiments include explosions.
We painstakingly identify the safest way to carry out each experiment.
All experiments have been tested in schools and/or in after-school clubs.
Each experiment includes very detailed, visual step-by-step instructions.
Can I buy an individual experiment set?

Currently there is no such option; however, we hope to introduce this opportunity in the near future.
Can I order additional reagents to repeat the experiment?

Each experiment set includes enough reagents to conduct each experiment at least twice. Since our sets are often shipped internationally, we cannot offer replacements for individual reagents. We can, however, provide replacements for whole sets.
Does each set contain enough reagents to repeat an experiment several times?

The vast majority of the experiment sets include enough reagents to conduct each experiment at least twice.
Can I cancel or pause my subscription?

You can cancel your monthly subscription at any time with a few clicks from your profile. Please note that prepaid subscriptions can be canceled or paused only through support@melscience.com. You can still pause a prepaid subscription for up to 3 months from your profile. Feel free to reactivate your subscription at any time; we keep track of your order history, so you don't need to worry about receiving any redundant sets or Starter Kits.
Do I need to pay for shipping?

Depending on your location, there may be a small shipping surcharge included in your monthly bill. Shipping is free to the majority of countries we sell to. You will find shipping prices for your country on the check-out page.
How can I pay for my subscription?

We currently accept payment by Visa, Mastercard, and American Express.
Can I buy a MEL Chemistry subscription as a gift?

We currently offer 9- and 12- month gift subscriptions. These options are available at discounted rates, as they are bulk proposals. Please select the "Buy as a gift" option on the registration page.
To which countries do you ship MEL Chemistry sets?

Our subscription is limited to the following countries:

Algeria
Australia
Austria
Bangladesh
Belgium
Bolivia
Bulgaria
Canada
China
Croatia
Cyprus
Czechia
Denmark
Estonia
Finland
France
Germany
Greece
Hong Kong, SAR
Hungary
Ireland
Israel
Italy
Japan
Korea
Latvia
Lithuania
Luxembourg
Malta
Morocco
Netherlands
New Zealand
Norway
Poland
Portugal
Romania
Russia
Singapore
Slovakia
Slovenia
Spain
Sweden
Switzerland
Taiwan
Turkey
USA
United Kingdom
Vietnam
We are a school; can we subscribe to this service?