The
fun

way to learn physics

Hands-on physics experiments, VR lessons, and live physics classes with science teachers. Ages 8–14+.
5 out of 5
800+ reviews
1.5 M followers
Look what you can do at home!
Over 30 physics experiments with monthly delivery. Certified safe. Fun for the whole family.
Ferrofluid
Discover invisible magnetic fields!
Liquid nightlight
The science behind the glow!
Electric motor
Hands-on electromechanics!
Colorful stress patterns
Reveal the tension in plastic materials!
Vacuum chamber
Recreate stratospheric conditions at home!
More exciting experiments every month
Browse all sets and experiments
How it works
1.
Subscribe to MEL Science
Choose the Physics course at checkout. Starting from $25.90 per month. You can switch to another course, pause, or cancel your subscription at any time.
2.
Get a new physics kit monthly
Get a physics set with 2–3 hands-on experiments every month and explore how things work!
3.
Learn physics
Enjoy our educational mobile app with VR physics simulations, a virtual assistant, and live lessons.
Make your kids fall in love with science
20+ physics sets
Each experiment set contains all the necessary tools and reagents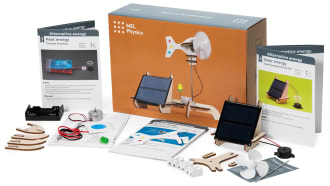 Interactive mobile app
Dive deeper into science
MEL Science is much more than just kids' subscription boxes — it is an educational platform. The MEL Science app actively engages kids in the learning process. Forget memorizing formulas — learn through firsthand experience!
VR lessons
Develop a deeper understanding of physics by actually observing molecules from the inside
Temperature as kinetic energy
Virtual assistant
Go beyond boring instructions — let real scientists guide your kids through their physics experiments with interactive instructions.
Live lessons
Study with professional teachers
Not science savvy? Entrust your kids' education to the professionals. Get exclusive access to live lessons with our rock-star tutors and ask any tricky science questions in the live chat.
Recommended by parents
3000+ five-star reviews from happy customers.
My son and hubby are closer than ever since my husband doesn't usually get much of a chance to help our son with school work. This helps them both enjoy their love of science together.
Best birthday gift ever! The VR part is totally mind blowing. The app contributes a lot to the fun and learning, but you can still keep it screen free doing just these science subscription boxes.
A great way to incorporate real science into homeschool — as close as having a science lab as you can get at home. Safe and clean to keep parents calm and so much fun learning for the kids!
Loved by kids
3 million followers love watching our science videos on social media and sharing their #melscience experience. Join us and spread the science!
Approved by experts
This is one of the most exciting and ambitious home-chemistry educational projects I've seen.
The classic chemistry set gets a 21st-century upgrade.
MEL's apps for smartphones and tablets should distract kids from game consoles.
Why MEL Science?
1.
Proven to improve academic performance
Research conducted by the New Jersey Institute of Technology shows that our lessons help children score higher on exams and further their progress by 20.3%.
2.
Certified safe and tested in labs
Our science kits comply with US and EU safety regulations, meeting the strictest standards and making them completely safe for home use.
3.
Expertly built by scientists and parents
Our team has over 10 PhDs in science—and a growing number of children of all ages. As scientists, educators, and parents, we know what we're doing (and who we're doing it for).
4.
Education disguised as entertainment
More than 3 million followers worldwide enjoy watching our science videos on social media. And doing the experiments yourself is even more fun!
Recognized and awarded by:
Still have questions?
What does the subscription consist of?

The physical aspect of the MEL Science subscription consists of monthly delivery of a box with hands-on experiments covering a designated topic. Digitally, you receive access to VR/AR lessons packs, as well as access to live webinars conducted by rock-star science teachers. Every subscriber also gets access to the MEL Science app, where you can find a virtual assistant to make the experiments easier and a wide range of science content.
How much does it cost?

Subscriptions start at $25.90/mo.
What is the recommended age range for the product?

When you press "Get started" you will be offered a choice of courses with the recommended age range beside each one.
Are the experiments safe?

Yes, they are. We have made every effort to ensure that our experiments are as safe as possible:

MEL Science kits comply with the US CPSC (Consumer Product Safety Commission) requirements for educational sets and have confirmation from the CPSC Official on this.
The European Committee for Standardization (CEN) has compiled a special list of substances that are allowed in children's chemistry sets (EN 71-4). We only use substances from this list.
None of our experiments include explosions.
We painstakingly identify the safest way to carry out each experiment.
All experiments have been tested with kids.
Each experiment includes very detailed, visual step-by-step instructions.
Can I buy individual MEL Science kits?

Currently there is no such option; however, we hope to introduce this opportunity in the near future.
Does each set contain enough components to repeat an experiment several times?

The vast majority of the experiment sets include enough components to conduct each experiment twice. In most cases, your child will assemble a mechanism or setup that can be used an unlimited number of times.
Can I cancel or pause my subscription?

You can pause or cancel your subscription at any time with one click from your profile. You can also reactivate your subscription at any time.
Do I need to pay for shipping?

There are no additional charges when shipping to US addresses.
How can I pay for my subscription?

We currently accept payment by Visa, Mastercard, and American Express.
We are a school; can we subscribe to this service?

Please contact our customer support service at 1 (855) 971-2330 or

schools@melscience.com

to discuss introducing the MEL Science subscription to your classrooms.