The fun way to explore professions
Hands-on projects that introduce your kids to different career paths. Ages 5–9+.
5 out of 5
800+ reviews
1.5 M followers
Look what you can do at home!
A series of beautifully designed, career focused kits, lovingly created and delivered each month.
Doctor
Diagnose a patient, treat tooth decay, put on a cast and more.
Archaeologist & Paleontologist
Unearth the mystery of ancient animals.
Astronomer
Learn and blast off into outer space.
Artist
Learn about & create your first Ebru painting.
Veterinarian
Diagnose and treat animals.
Animator
Create your first animated movie.
How it works
Choose MEL Professions at checkout. Starting from $20.90 per month. You can switch to another course, pause, or cancel your subscription at any time.
2.
Get a new professions kit monthly
Receive a new career kit each month. Each kit is lovingly designed and made from safe, quality materials that can be used over and over again.
3.
Explore career paths
Fun activities are designed to engage your kids teaching them about unique & exciting professions.
Make your kids fall in love with science
Each kit contains all the materials needed to make learning fun
Archaeologist & Paleontologist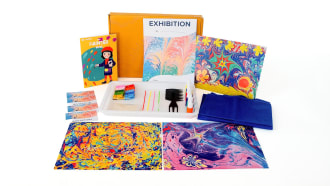 Interactive mobile app
Dive deeper into science
With your MEL Science subscription, you'll also get access to our educational app. Engage your child with chemistry and physics by actually observing molecules from the inside.
Recommended by parents
1000+ five-star reviews from happy customers.
What distinguishes these sets from other toys is that all the tasks are closely related to the profession.
I like these kits — they're so unique (you can't buy them in any store), and they have real tools and tasks for the kids to use. Plus the quality of the materials is excellent. Believe me, your kids will be excited too.
We got our first kit yesterday and Kira spent a whole day playing with it and solving tasks. Definitely recommended.
Loved by kids
3 million followers love watching our science videos on social media and sharing their #melscience experience. Join us and spread the science!
Why MEL Science?
1.
Designed to explore careers
Each month, get a new profession for your kids to explore and find their passions.
2.
Packed with real-world knowledge
Your kids will engage in real-world situations to help them connect what they learn with the world around them.
3.
More quality time together
You can have more bonding time with your kids — just explore different professions as a family.
4.
Created for multiple uses
Every kit contains real-life tools made of high-quality materials, so your kids can use them over and over.
Still have questions?
What does the subscription consist of?

Every month, you will receive a box related to professions in the fields of science, technology, engineering, art, and math for kids 5–9 years old. Once your MEL Professions course runs out, you will be switched to MEL STEM.
How much does it cost?

Our sets are available with two different billing plans — monthly and annual:

A monthly plan — depending on the courses you select, you will pay the corresponding price for one set per month, plus a $5.00 shipping fee and sales tax if applicable. Additional sets per month are billed at a discounted rate with their own $5.00 shipping fee.
An annual plan — you are billed once per year for the upcoming 12 months: you prepay for all 12 of your orders in advance, plus a $5.00 shipping fee per set and sales tax if applicable. Additional sets per month are billed at a discounted rate with their own $5.00 shipping fee.

You can find the prices of our courses on our

registration page

.
What is the recommended age range for the product?

MEL Professions is intended for kids 5–9 years old. Kids closer to 9 years old will be able to complete all the tasks by themselves, while younger kids will need some assistance from adults. For the other courses, press "Get started"; you will be offered a choice of courses with the recommended age range beside each one.
Are the experiments safe?

Yes, they are. We have made every effort to ensure that our experiments are as safe as possible.
Can I buy an individual MEL Science kit?

Currently, there is no such option. However, we hope to introduce this opportunity soon.
Does each set contain multiple-use activities?

The vast majority of the activities can be done multiple times.
Can I cancel or pause my subscription?

You can pause or cancel your subscription at any time with one click from your profile. You can also reactivate your subscription at any time.
How can I pay for my subscription?

We currently accept payment by Visa, Mastercard, and American Express.
Thank you for signing up for our newsletter.
Sign up for our newsletter
Get DIY science experiments, educational materials, early access to new products, promos, and more!