The
fun

way to teach your kids coding

Teach your kids coding skills through making and playing. Ages 4+
Look what your kids can do at home!
Hands-on coding kits. Delivered monthly. Certified safe. Fun for the whole family.
Code Mochi to travel the galaxy
Play coding board games to learn science
Get creative with Lego and craft
How it works
1.
Subscribe to MEL Science
Choose MEL Coding at checkout. You can switch to another course, pause, or cancel your subscription at any time.
2.
Get a new coding kit monthly
Receive a coding set for kids with topics ranging from numbers to biology every month. Plus, get a starter pack with a Robotics kit your first month!
3.
Learn coding hands-on
Learn the basics of computer programming and computational thinking through hands-on experience. Montessori-approved. LEGO-compatible.
Hands-on kits and immersive educational experiences for your kids
Subscriptions from $29.90 a month.
First you receive Mochi and the Robotic Rover
Every subsequent month receive a new adventure for Mochi and your child to explore together.
1. Mochi Application
2. LEGO-compatible rover
3. Cardboard for screenless coding
4. Wooden puzzle
5. Mochi bear
6. Storybook
7. Story map
8. LEGO connectors
9. Planet cards
10. Coding blocks
11. Stickers
Each monthly set contains a new book, story map, coding blocks, 3D puzzles, and STEM game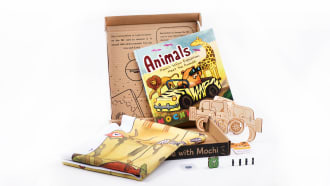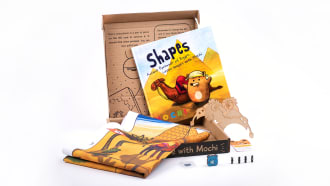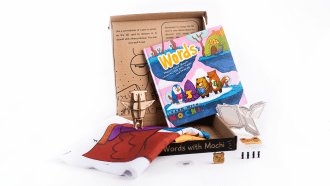 Made from safe and sustainably sourced materials
All the materials in our sets are recyclable, environmentally-friendly, and safe for your child!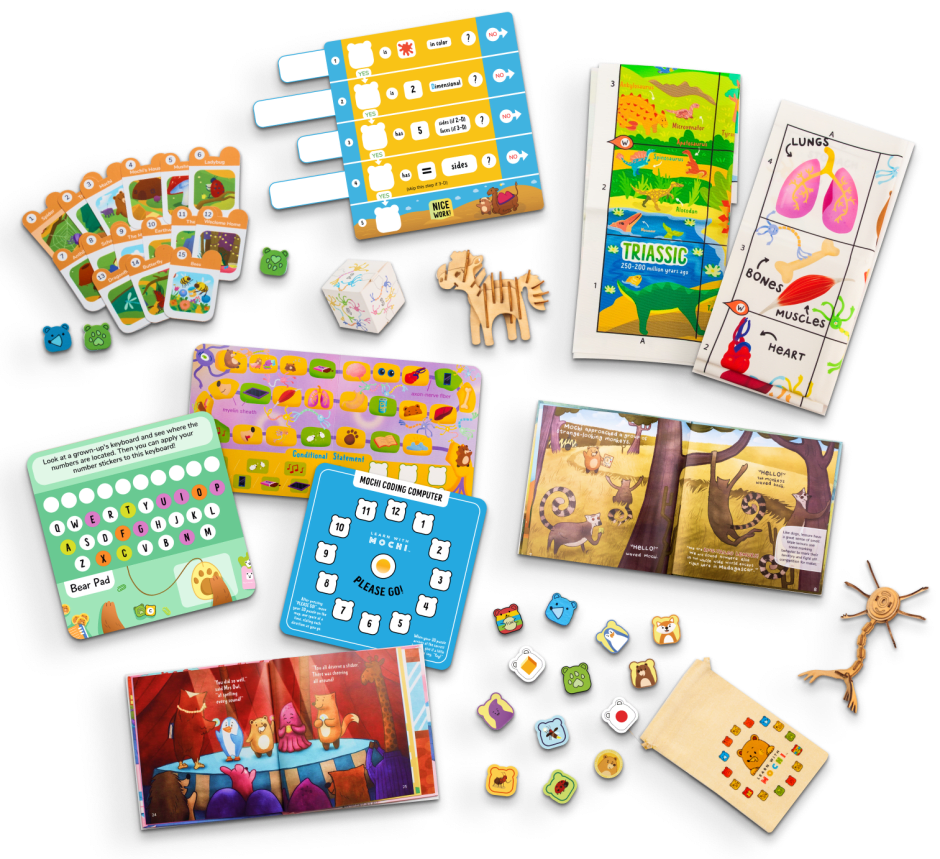 Play and learn
Explore expertly designed activities that seamlessly blend learning and play, nurturing your child's skills as they code through adventures and play STEM games.
General skills
Develop motor skills, memory, attention and more.
Coding skills
Learn about debugging, logic and algorithms.
Designed by experts
Your child's first coding kit was developed through a collaboration between Oxford and Princeton scientists and Judy Quintero, a leader in the field of screen-free coding. We collaborated with Judy to bring many of her in-class activities to the safety and comfort of your own home.
Loved by kids
3 million followers love watching our science videos on social media and sharing their #melscience experience. Join us and spread the love of science.
Why MEL Science?
1.
Learn coding hands-on
Make a rover execute your commands and learn functional programming concepts
2.
Ready for adventures
Each new coding kit contains a big adventure waiting to be unlocked.
3.
More quality time together
Embark on a coding adventure together creating lasting memories with your little ones.
4.
Use again, and again
We designed each hands-on activity and collectible part to be played with over and over again.
Recognized and awarded by:
Still have questions?
What does the subscription consist of?

Your first box will include a robotics kit, and a topic-focused set. Every monthly set contains a new book, a story map, coding blocks, a 3D puzzle, and an educational game. Once your MEL Coding course runs out, you will be automatically switched to MEL STEM.
How much does it cost?

Subscription starts at $29.90/month.
What is the recommended age range?

MEL Coding is intended for kids 4–7 years old. Kids closer to 7 years old will be able to complete all the tasks by themselves, while younger kids will need some assistance from adults. For the other courses, press "Get started"; you will be offered a choice of courses with the recommended age range beside each one.
Are the experiments safe?

Yes, they are. We have made every effort to ensure that our experiments are as safe as possible:

They comply with the US CPSC (Consumer Product Safety Commission) requirements for educational sets.
Our hands-on chemistry projects comply with The European Committee for Standardization's (CEN) special list of substances allowed in children's chemistry sets (EN 71-4).
None of our projects include explosives.
All of them have been tested with kids and include detailed, visual step-by-step instructions.
Can I buy an individual MEL Science kit?

Currently, there is no such option. However, we hope to introduce this opportunity soon.
Does each set contain multiple-use activities?

The vast majority of the activities can be done multiple times.
Can I cancel or pause my subscription?

You can pause or cancel your subscription at any time from your profile by contacting our support team. You can also reactivate your subscription at any time.
How can I pay for my subscription?

We currently accept payment by Visa, Mastercard, and American Express.
Thank you for signing up for our newsletter.
Sign up for our newsletter
Get DIY science experiments, educational materials, early access to new products, promos, and more!