The first and only medical science subscription in the world
Practice at home with professional tools and diagnose patients in a virtual hospital. For teens, students, and medicine enthusiasts ages 14+.

First release! Last few remaining.
Look what you can do at home!
Surgery
Try on a surgical suit! Master different types of surgical techniques using a real scalpel and needles. High-five Chris Turk afterwards.
Dentistry
Conquer your old fear of dentists! Make a dental cast of your jaw, and treat cavities using a dental drill and UV light. Not that scary now, is it?
Therapy
Step into a physician's shoes! Check blood pressure, fill out a patient's history, and learn how to use a stethoscope.
Pharmacy
It's not a bitter pill to swallow, it's a fizzy one! Produce a real fizzy ascorbic acid tablet and test its quality.
ECG
When you meet someone who makes your heart skip a beat, you'll be glad you know how to take and decode your own electrocardiogram.
Pharmacy 2
Meet one of the main stars of the pharmaceutical industry — sugar yeast. Learn how to work with a micropipette and centrifuge.
Browse all sets and experiments
How it works
Get your kit
Subscribe
for
$64.90
per month and get a set with up to 5 hands-on science projects every month. You can pause or cancel at any time.
Treat
Watch pre-recorded patient interviews, and use your practical knowledge and guidance from the app to diagnose them! Meet a new patient every month.
Repeat
One topic – two sets! Garner real-world experience in different medical branches using the real professional tools from the sets.
"These tools are exactly the same as the ones I use at work!"
— Dr. Peter Kelly
5 out of 5
800+ reviews
1.5 M followers
Diagnose patients like real medical students!
Watch new pre-recorded video interviews every month.
Collect full patient histories.
Check the results of lab tests and make diagnoses.
Receive feedback and understand your mistakes.
Meet a new patient every month.
"I feel less stressed talking to real patients after doing these video interviews!"
— Jennifer, Medical student
What's inside
Every month, you get one experiment set with professional medical tools and all the necessary materials to successfully complete practical tasks.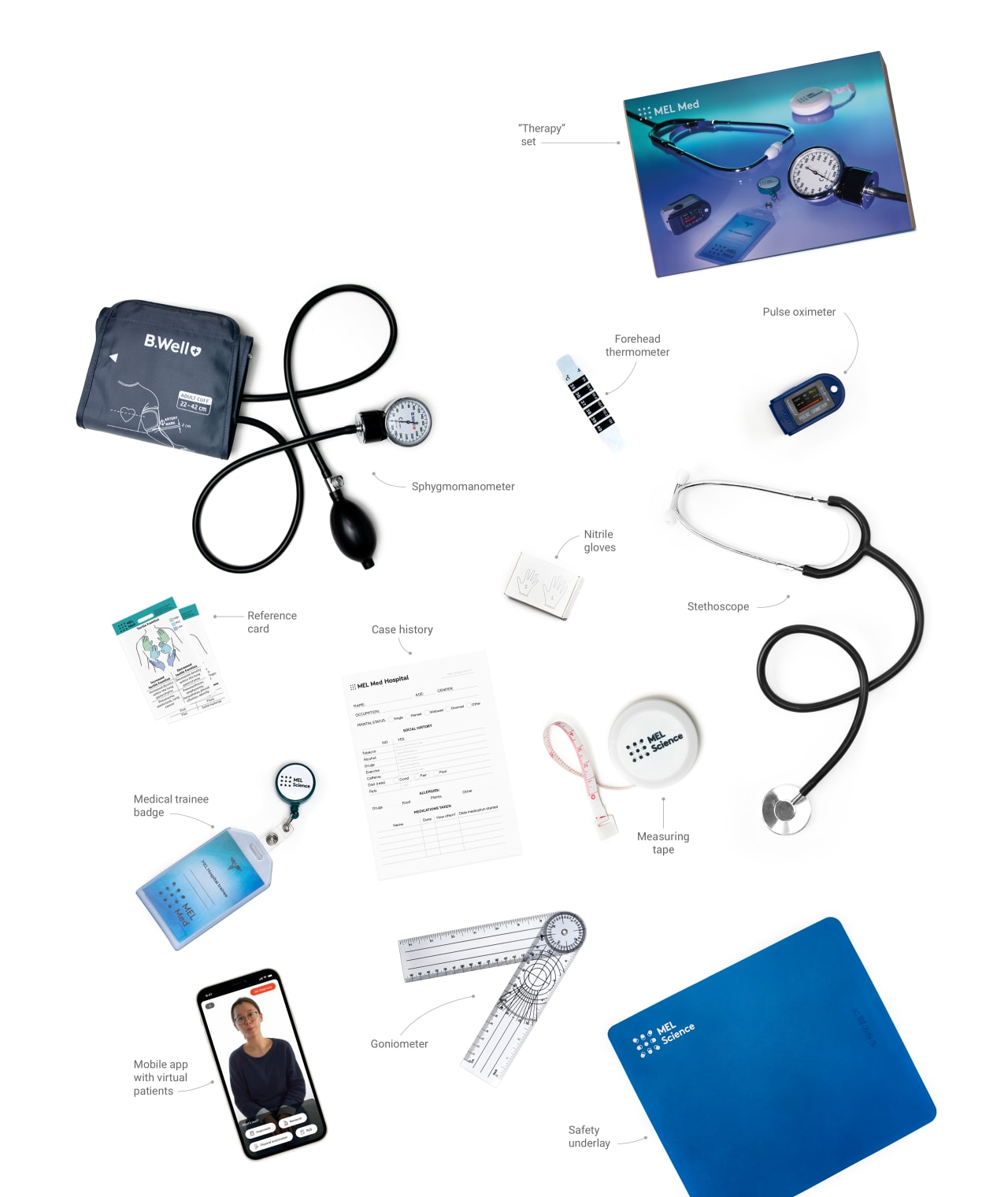 Designed by doctors and scientists
Each set is created and developed by a team of doctors, biologists, and pharmacists.
Completely safe for home use
We comply with the US Consumer Product Safety Commission requirements for educational sets.
Research based
"When compared with traditional education, virtual patients can more effectively improve skills, and at least as effectively improve knowledge."
According to the Digital Health Education Collaboration
Add these skills to your CV!
Real skills you'll master:
Familiarity with simple surgical procedures.
Defining, pronouncing, and spelling key medical terms.
Making basic physiological observations and recording them appropriately.
Scrubbing up for surgery.
Performing venipuncture.
Carrying out a urine multi dipstick test.
Recording and interpreting the electrical activity of the heart.
Learning and practicing emergency measures for choking.
and many more...
The skills are recognized by the General Medical Council and SkillsUSA standards.
As a practicing doctor, I'm impressed! I want my daughter to choose her profession carefully, and MEL Med is the perfect tool to give her an idea about real medicine.
I love that I can practice with proper tools. These sets make me feel like a real med student!
There are many cheap medical kits with plastic stethoscopes on the market. And professional options for medical students are too pricey! MEL Med is a bargain deal really. It's a decent educational set for an affordable price. Jacob is thrilled to start!
Still have questions?
How much does the subscription cost?

The subscription costs $64.90 per month. Every month, you get one set with up to 5 science projects and access to a new virtual patient in the mobile app to practice your skills.
Which set will I receive?

Your first set is "Therapy: initial appointment." Every doctor's appointment begins with an initial examination. Even across specialties, doctors initially work from a very similar playbook. That's why, in your very first box, you'll learn how to conduct an initial examination of a patient. A correctly completed patient history is crucial to further treatment.
Is the Medicine course safe?

All of the sets are designed by scientists and doctors. They are completely safe for home use.
Can I cancel or pause my subscription?

You can cancel your subscription at any time with one click from your profile. You can also reactivate your subscription at any time; we keep track of your order history, so you don't need to worry about receiving any redundant sets.
How can I pay for my subscription?

We currently accept payment by Visa, Mastercard, and American Express.
Is the Medicine course curriculum based?

MEL Medicine sets are not related to the school curriculum. Practical skills obtained as a result of completing the sets will allow users to enrich their CV with information about mastering these skills.
Can I order 1 subscription for 2–3 kids?

All the experiments in each set can be conducted at least twice, so two teenagers can share a box. The medical equipment in the box is not duplicated, but can be reused.
To which countries do you ship MEL Med sets?

At the moment, we only ship to the US.
Thank you for signing up for our newsletter.
Sign up for our newsletter
Get DIY science experiments, educational materials, early access to new products, promos, and more!