Exciting monthly experiments for children
Get 2-3 experiments delivered to your door every month. Free VR headset and Starter Kit.
2–3 new experiments delivered to your door every month
Our kits are safe and made for home use
Spend time together in an interesting and educational way
Check out all the interesting things your child can study over one and a half years
Tin hedgehog
A zinc pellet turns into a hedgehog!
Hot ice
Liquid instantly turns into hot ice!
Copper coral
Copper grows from iron wire like coral in the sea
Galaxy in a flask
The solution in the flask glows when we add potassium hexacyanoferrate
Tin dendrite
Metal trees grow before your very eyes!
Martian rust
An iron nail turns red in a solution of copper salt
Why choose MEL Chemistry?
Education and enter­tain­ment go hand in hand
Every experiment includes a detailed description to help your child gain a full understanding of each experiment.
A fun and interesting way to spend time together
Spend the weekend together doing an interesting and useful activity; in the days that follow, your child can learn more about science independently using our app and website.
Makes science more entertaining
With our interesting and diverse experiments, your child can study science in practice, not just in theory.
2-3 new experiments every month
Once a month you will receive one set covering a designated chemistry topic.
100% safe
The kits comply with European safety norms EN 71-4. There are no experiments with explosions.
Subscribe now
What's in the kits?
Each MEL Chemistry kit contains the equipment you need to conduct your experiments:
Chemical reagents
Additional components
Visual step-by-step instructions
Enhance your experience with our app
Use the supplementary app from MEL Chemistry to study chemistry in more depth.
Turn your smartphone or tablet into a virtual microscope, and use it to look at molecules and atoms in 3D with the help of our MEL Chemistry VR headset!
Molecules and crystals in 3D
Virtual reality mode
Videos with experiments
You will get a Starter Kit to kick-start your subscription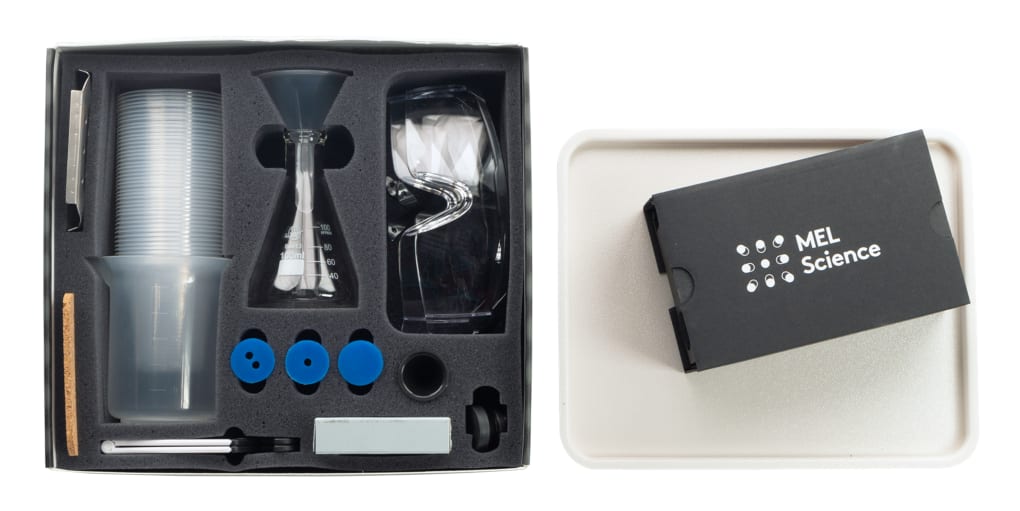 The Starter Kit contains essential equipment that you will use regularly during the course of your MEL Chemistry subscription.
We received our MEL Chemistry kit last week. We downloaded the app and put together the VR glasses before starting an experiment. Both took only a couple minutes, and my daughter enjoyed viewing molecules with the glasses. The kit is user-friendly and had enough reagents to run each experiment a few times. She made the sugar snake and tin hedgehog. They both worked well and she had a lot of fun.
I am very impressed with how MEL has organized the kits and support for the experiments, they were worth the wait!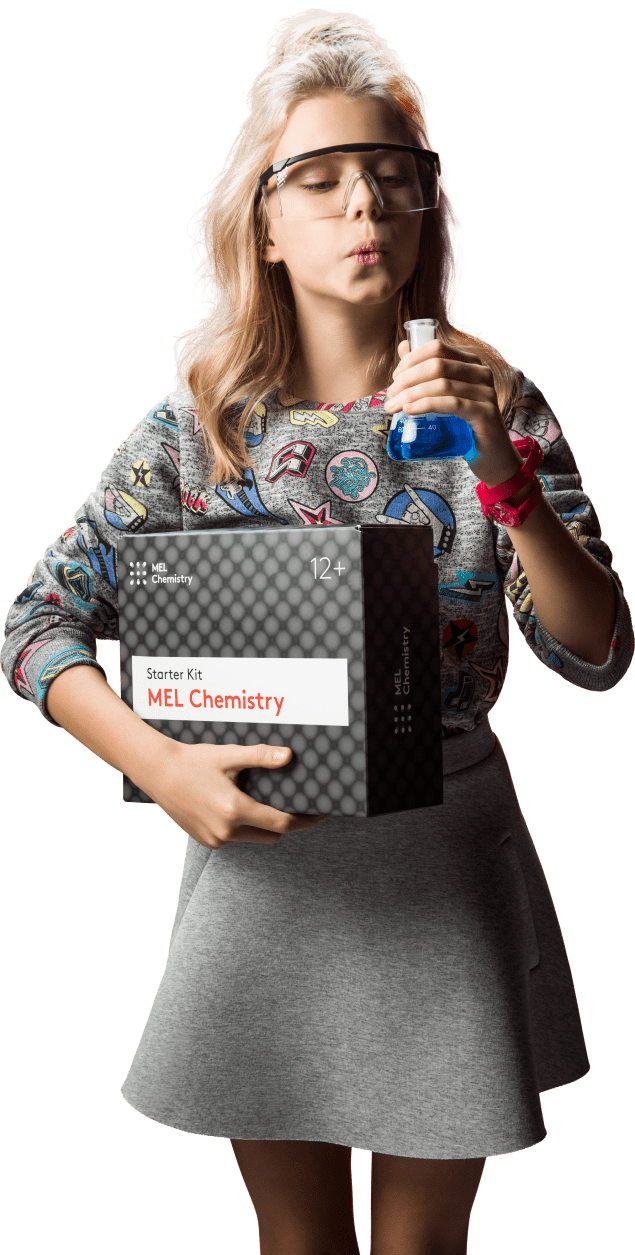 MEL Chemistry kits will suit your child if:
Your child is interested in science and age 9-14
The school curriculum doesn't have enough practical chemistry lessons
Your child hasn't started studying chemistry at school yet, but you want to inspire them with an interest in science
Your child is homeschooled
How it works
1.
Subscribe
Just enter your address and payment details. You can pause or cancel your subscription at any time.
2.
Get a free Starter Kit and VR headset in your first month
After you subscribe, you'll receive our Starter Kit and complimentary VR headset, plus your introductory MEL Chemistry experiments
3.
Receive one set containing new experiments every month
Each month, you'll receive a package containing one incredible experiment set delivered to your home (or workplace). Each set contains 2⁠-⁠3 experiments.
4.
The whole family can spend time together doing entertaining experiments
Start an exciting new tradition — conduct experiments with your family on weekends!
Find out what they're writing about us
Any more questions?
Read the answers to frequently asked questions or ask your own question.
Which set will I receive if I start now instead of starting at the beginning of the school year?

You will receive an experiment set with experiments illustrating a designated topic. One new topic is introduced each month. You can check the full list of topics for the entire subscription to see which sets you can receive each month. The topics are looped such that the start date of your subscription does not matter; you will eventually receive all the experiment sets.
How much does it cost?
Are the experiments safe?

Yes, they are. We have made every effort to ensure that our experiments are as safe as possible:

The European Committee for Standardization (CEN) has compiled a special list of substances that are allowed in children's chemistry sets (EN 71-4). We only use substances from this list.
None of our experiments include explosions.
We painstakingly identify the safest way to carry out each experiment.
All experiments have been tested in schools and/or in after-school clubs.
Each experiment includes very detailed, visual step-by-step instructions.
There is an instructional video for each experiment.
What is the age recommendation for MEL Chemistry experiments?

We recommend that children be 10 years or older in general; however, with careful parental supervision and an inquisitive attitude, children as young as 6 can enjoy and learn from our experiments.
Can I buy an individual experiment kit?

Currently there is no such option; however, we hope to introduce this opportunity in the near future.
Can I order additional reagents to repeat the experiment?

Each experiment set includes enough reagents to conduct each experiment at least twice. Since our kits are often shipped internationally, we cannot offer replacements for individual reagents. We can, however, provide replacements for whole kits.
Does each set contain enough reagents to repeat an experiment several times?

The vast majority of the experiment sets include enough reagents to conduct each experiment at least twice.
Can I cancel or pause my subscription?

You can cancel your subscription at any time with one click from your profile. You can also reactivate your subscription at any time; we keep track of your order history, so you don't need to worry about receiving any redundant sets or Starter Kits.
Do I need to pay for shipping?

Depending on your location, there may be a small shipping surcharge included in your monthly bill. Shipping is free to the majority of countries we sell to. You will find shipping prices for your country on the check-out page.
How can I pay for my subscription?

We currently accept payment by Visa, Mastercard, and American Express.
Can I buy a MEL Chemistry subscription as a gift?

We currently offer 9- and 12- month gift subscriptions. These options are available at discounted rates, as they are bulk proposals. Please select the "Buy as a gift" option on the registration page.
To which countries do you ship MEL Chemistry sets?

Our subscription is limited to the following countries:

Australia
Austria
Bahrain
Belgium
Bulgaria
Croatia
Cyprus
Czechia
Denmark
Estonia
Finland
France
Germany
Greece
Hong Kong
Hungary
Ireland
Israel
Italy
Japan
Korea
Latvia
Lithuania
Luxembourg
Malaysia
Malta
Netherlands
New Zealand
Poland
Portugal
Romania
Russia
Singapore
Slovakia
Slovenia
Spain
Sweden
Taiwan
USA
United Kingdom
We are a school; can we subscribe to this service?