Chemistry - Invisible inks
In this MEL Academy lesson your children will:
learn the nature of signs of chemical reactions
discover how heating effects reactions
make invisible inks with their own hands
Lesson time
| | | |
| --- | --- | --- |
| 11:00am | PST | (San Francisco, Seattle, ...) |
| 12:00pm | MST | (Phoenix, Denver, ...) |
| 1:00pm | CST | (Chicago, Houston, ...) |
| 2:00pm | EST | (New York, Toronto, ...) |
| 7:00pm | GMT | (London, ...) |
Lesson duration: 45-55 minutes.
Prepare in advance
In this lesson, we will conduct "Invisible inks" DIY experiments. Prepare in advance household materials shown below.
Worksheet
Please, download and print this worksheet in advance. You'll need to refer to it during the lesson.
MEL Experiment
If you are a subscriber of MEL Chemistry then you can conduct Invisible copper experiment from the Chemystry of spies chemistry set: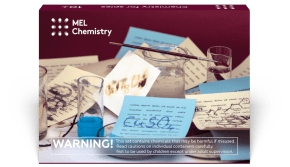 Tutor
This lesson is presented by Katie Moon:
Hi, I'm Katie! I am a secondary school science teacher and general space nerd. I studied astrophysics at Sheffield University before embarking on a PGCE at Bristol University. That was in 2016. Since then I have taught in the UK and around the world before settling down with my laptop as a full-time online tutor in 2018. I am a firm believer that practicals are the best way to learn important concepts in science. So if you want a teacher who simply loves science (all of it, not just space!), who loves experiments and who oozes enthusiasm then you're in the right place!