MEL Med subscription (14+)
Last chance to get 50% off your first science kit! Promo code CHRISTMAS
Loved by parents
We've done the med kits and Ansley loves them! She's 15, and is already well versed in medical terminology and concepts... she has so much fun and learns from them. She's on her 4th box and we plan on keeping going!
My daughter wants to be a reproductive endocrinologist, and this looks like a good intro to medical procedures.
Kits
Real medical science. Made simple for your kids
Exciting hands-on kits. Delivered monthly to your home. Certified safe. Packed with professional medical tools. Filled with discoveries for the whole family.
Surgery
Try on a surgical suit. Master different types of surgical techniques using a real scalpel and needles. High-five Chris Turk afterwards.
Dentistry
Conquer your old fear of dentists. Treat cavities using a dental drill and UV light. Not that scary now, is it?
Pharmacy
It's not a bitter pill to swallow, it's a fizzy one! Produce a real fizzy ascorbic acid tablet and test its quality.
Browse all kits
The first and only medical subscription in the world
What's inside
Every month, you get one experiment set with professional medical tools and all the necessary materials to successfully complete practical tasks.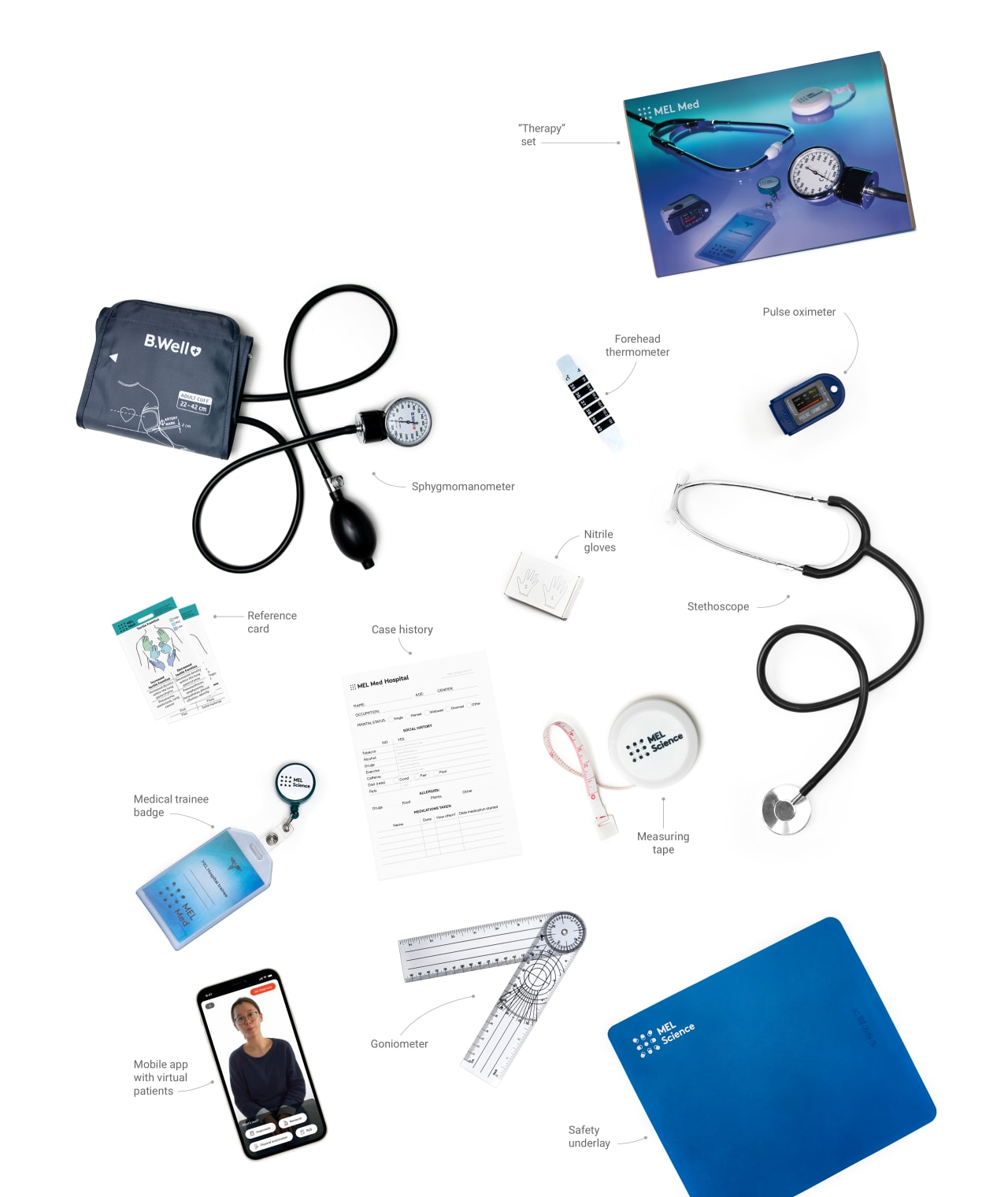 Experiences
Let technology be the teacher
Unique in-app experiences that complement the hands-on kits. Available anytime from your smartphone or tablet. Designed to make screen-time productive and meaningful.
Video guides
Let real doctors guide your kids through the hands-on kits. Engaging videos instead of thousands of boring instructions.
Virtual patients
New skills for your kids. Let them feel like real doctors as they diagnose their first patients in our virtual clinic.
How it works
1.
A new kit every month
Get a hands-on kit with professional tools delivered to your home every month.
2.
In-app experiences
Video guides from real doctors and virtual patients for med practice – all in the app.
3.
For $64.90/month
Try it. You can pause or cancel at any point.
Your kids will enjoy
Hands-on kits
Video guides
Practice with virtual patients
MEL Science loved by kids
Over 3 million followers have enthusiastically shared their scientific experiences.
Still have questions?
How much does the subscription cost?

The subscription costs $64.90 per month. Every month, you get one set with up to 5 science projects and access to a new virtual patient in the mobile app to practice your skills.
Which set will I receive?

Your first set is "Therapy: initial appointment." Every doctor's appointment begins with an initial examination. Even across specialties, doctors initially work from a very similar playbook. That's why, in your very first box, you'll learn how to conduct an initial examination of a patient. A correctly completed patient history is crucial to further treatment.
It is safe?

We have made every effort to ensure that our hands-on projects are as safe as possible:

They comply with the US CPSC (Consumer Product Safety Commission) requirements for educational sets.
None of our projects include explosives.
All of them have been tested with teenagers and include detailed visual step-by-step instruction.
Can I cancel or pause my subscription?

You can cancel your subscription at any time with one click from your profile. You can also reactivate your subscription at any time; we keep track of your order history, so you don't need to worry about receiving any redundant sets.
How can I pay for my subscription?

We currently accept payment by Visa, Mastercard, and American Express.
Is MEL Med curriculum-based?

MEL Med sets are not related to the school curriculum. Practical skills obtained as a result of completing the sets will allow users to enrich their CV with information about mastering these skills.
Can I order 1 subscription for 2–3 kids?

All the experiments in each set can be conducted at least twice, so two teenagers can share a box. The medical equipment in the box is not duplicated, but can be reused.
To which countries do you ship MEL Med sets?

At the moment, we only ship to the US.
Thank you for signing up for our newsletter.
Sign up for our newsletter
Get DIY science experiments, educational materials, early access to new products, promos, and more!